When you are out hunting for a job and you secure that all-important interview, dressing up well plays a very big factor in scoring some brownie points with potential employers. After all, no one wants to hire someone who does not make the effort to look presentable. It is crucial that what you wear fits in with the company's brand image.
I have been asked to take part in Marks & Spencer's Style Challenge contest entitled "What To Wear For An Interview". It involves 10 bloggers (5 females & 5 males) choosing one staple item – a dress or suit – from M&S then creating an outfit we would wear based on a particular workplace scenario we are told about. Each week over 4 weeks M&S will give us a different workplace scenario and challenge us to show them how we would dress for it. After 4 weeks of challenges, 2 winners will be declared and given an iPad.
I have picked out a suit for myself which has been given to me free of charge to keep by M&S and this week's task is to decide what I would wear to an interview "for a fashion role at a well-known UK fashion brand (e.g. a sales, design, buying or marketing role)". That's my first challenge. I need to decide how I would style & accessorise the suit I chose.
Luckily due to experience, I know a bit about fashion roles and what to wear to the interviews as I have attended a few. Earlier this year I was head-hunted by an agency for one of the world's biggest global mass media companies which was incredibly surreal, and I was advised by the head of the recruitment agency to look "fashionable". Now by fashionable they did not mean dressing like a peacock or going over the top like some of the people you see at fashion weeks. No, that would be a huge faux pas. The very last thing you want to do is alienate the person interviewing you. Looking fashionable just means look casual and cool. I would definitely advise against looking too formal unless you are applying for a job that requires you to wear a suit. You may be thinking, "Hang on a minute. Didn't you pick a suit? How can a suit not make you look formal?" Well, if you wear a shirt and smart lace-up shoes with it, your outfit will certainly look very formal. However, I am not going to do that.
What I have chosen to wear with my suit for this week's challenge is a sweatshirt by New Love Club and hi-top Converse shoes. It is the perfect way to dress down and look presentable. The sweatshirt (below) is very arty and the reason I chose it is because that top has earned me a few compliments from friends and even strangers.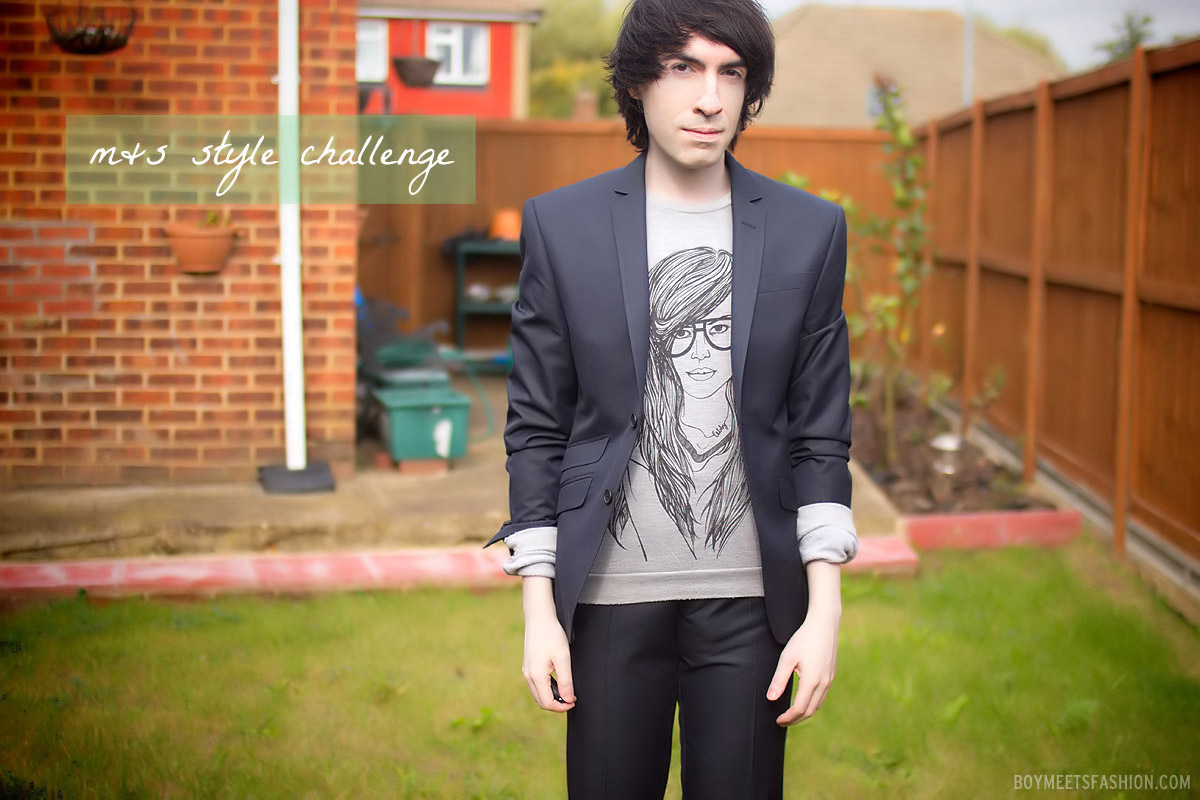 Converses (below) are always cool. Always fashionable. They are incredibly versatile and can be worn with pretty much anything.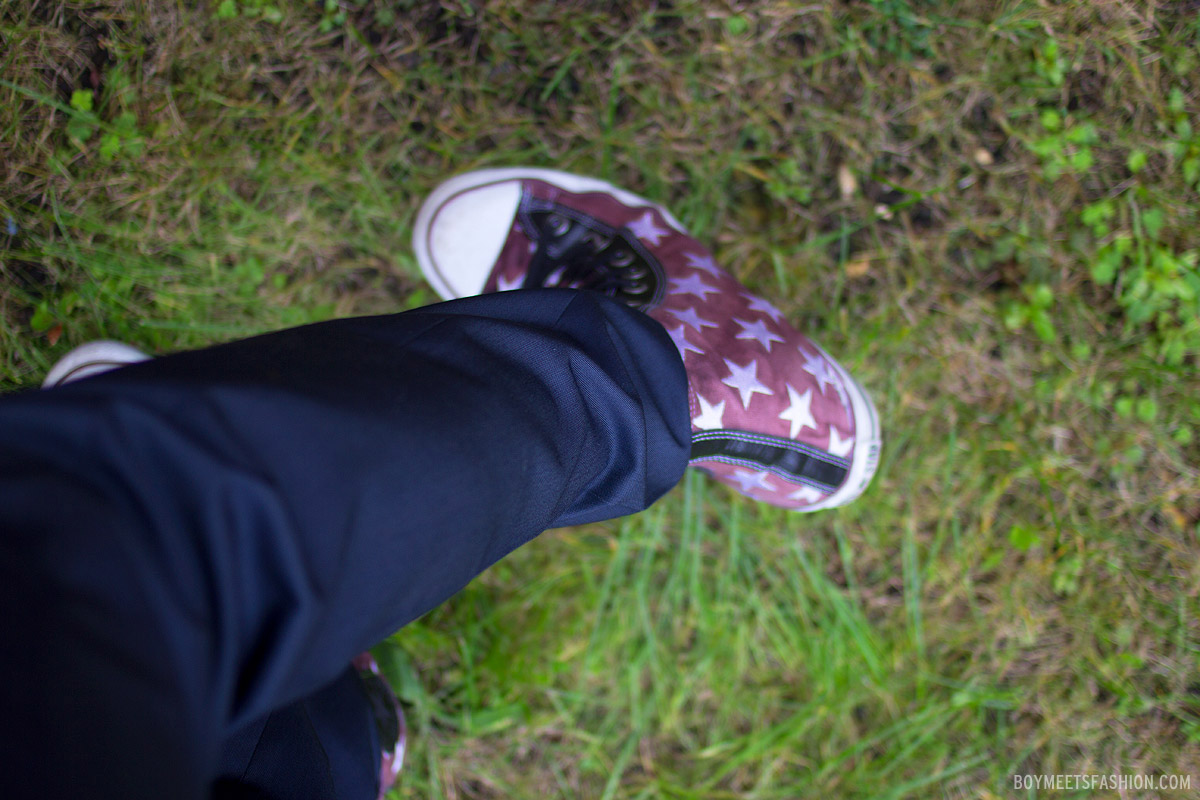 I picked M&S's Super Slim Fit Limited Collection 2 Button Plain Jacket suit in dark blue as my staple item because the cut is delightful and really complements my figure. It makes my shoulders look wide and keeps my waist looking slim. I also love how smart the front outer pockets look. I decided to roll up the cuffs of my suit jacket and sweatshirt (see image below, on the right) along my arms to add an extra detail.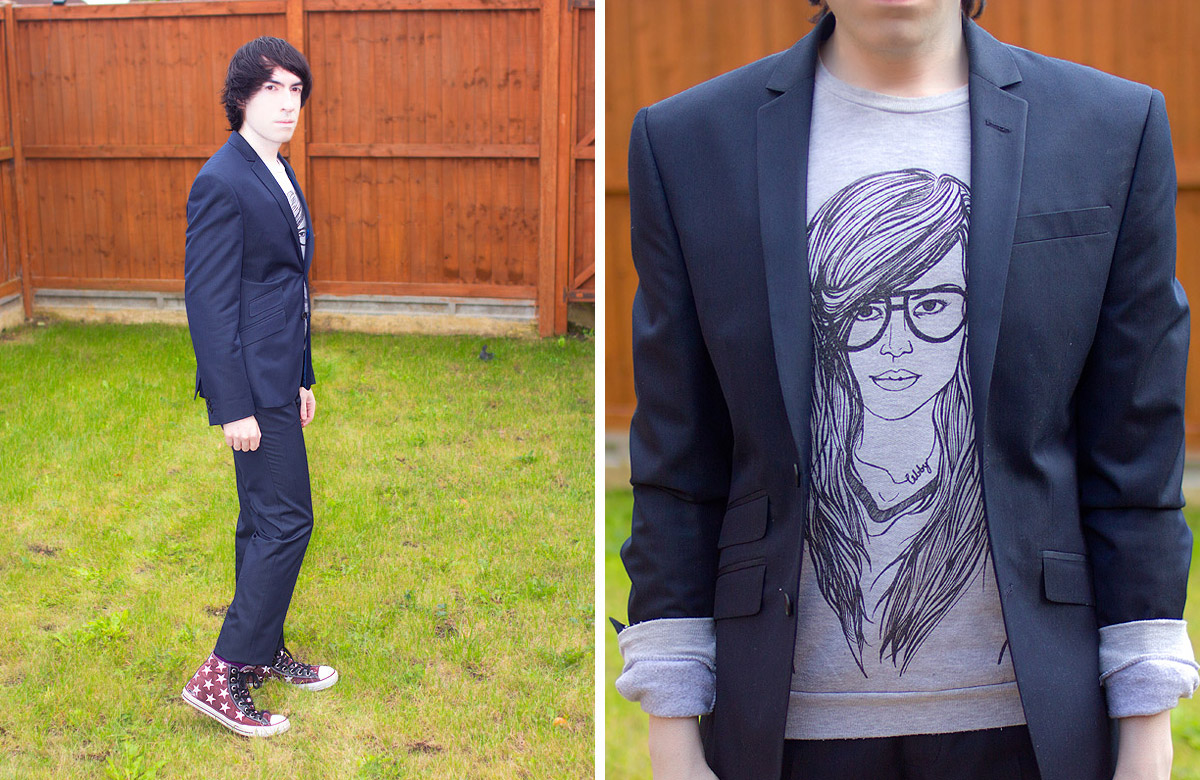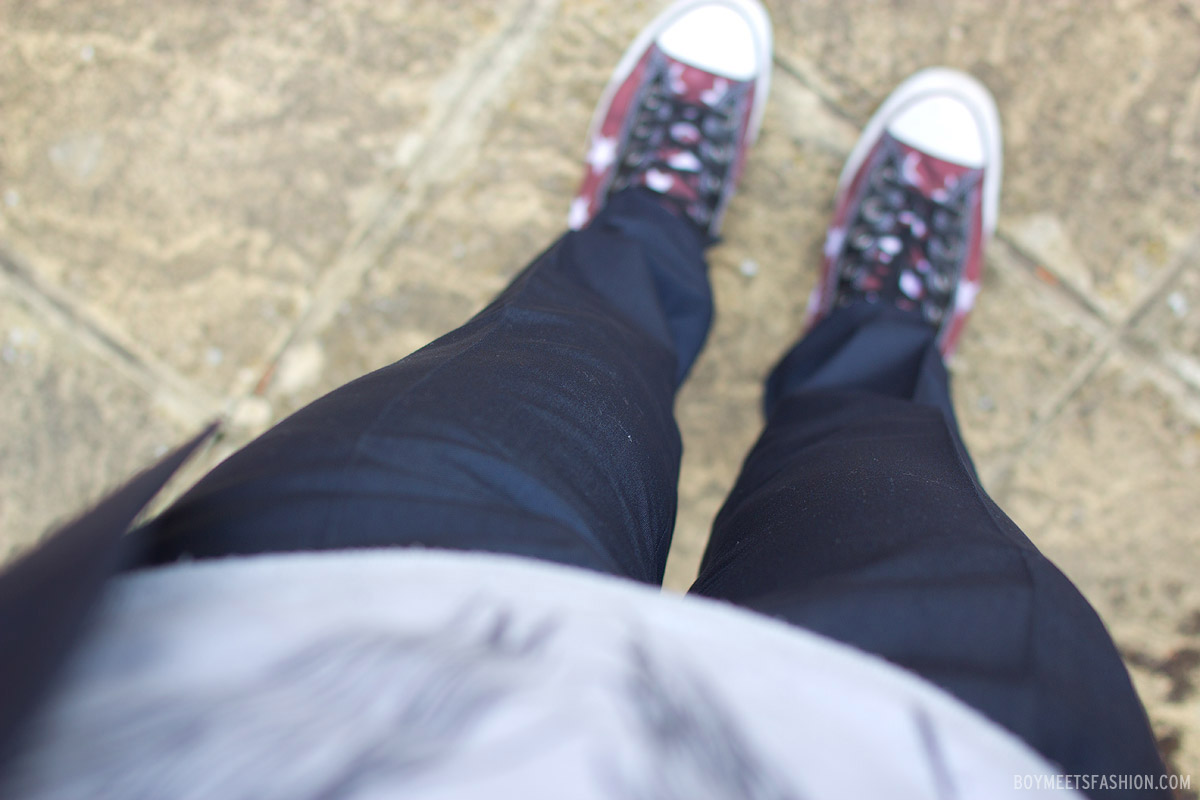 I hope you like how I styled the suit as it is what I would personally wear to the interview. I feel the look is smart & very simple – not overdressed or loud. It shows a bit of my personality without stepping on anyone's toes. Making a good impression and showing a little bit of distinctiveness can set you apart from the rest.
One crucial point to remember when you are out looking for a suit is to ensure the fit is perfect for your body. A well-fitted suit can make you look like a million dollars whereas an ill-fitted one degrades your appearance. If you look good then you will look confident, and if you look confident you will also look competent. Hopefully I have also shown you that a suit is not just for formal wear and can be worn without a button-up shirt for a more laidback casual look.
In a few days, I will be given another interview scenario by Marks & Spencer and for the second task I will be asked to create an outfit using the same suit. So please do check back!

FOLLOW ME ON
TWITTER
FACEBOOK