I was invited to attend the launch of the Braun Series 9 shaver over breakfast at the Devonshire Club. Designed to save you time and cut closer to your skin than ever, it is one of the world's most advanced shavers money can buy. I have to say, this is perhaps the only very beautiful electric shaver I have ever held in my hands. Feels and looks every bit like a premium product it is. I was very keen to get a closer look and you may be wondering why a bearded gentleman like me would be so interested in shavers. Well, it may surprise some people to know that I actually do shave a lot. I like to shape my beard as it would not only cover up most of my neck but both my entire cheeks as well. I would look like a beast! Normally I would use a razor blade to do this but I have to admit, the Series 9 electric shaver does such a great job and saves me so much time that I have now resorted to using that instead. It just makes your life so much easier and is the ultimate electric shaving experience.
Some key features:
Precision trimmer
The integrated and skin-friendly precision trimmer slides out of the back of the shaver for easy and more accurate sideburn shaping.
MultiHeadLock
The easily accessible MultiHeadLock locks the fully flexible shaver head in five positions to achieve a more precise shave. This is especially helpful when shaving hard to reach areas, like under the jawline and under the nose.
Grip for secure handling
The rubberized, textured grip zone features Braun's signature dot pattern. It ensures safe and confident handling even in wet conditions.
100% waterproof
Experience premium German engineering quality. All Braun shavers are waterproof up to 5 metres, so you can conveniently rinse them under running water or even shave under the shower.
Shave wet or dry
With Series 9 you can shave dry or use water, foam or gel for even better gliding and a smoother skin feeling.
50min cordless shaving
The state-of-the-art Li-Ion battery never loses performance and fully recharges in one hour. The premium LED display counts down the remaining minutes of shave time.
LED display
All information at a single glance: the precise LED display shows battery status, hygiene status and travel lock indicator.
Running/Charging time
Fully charged in 1 hour. Shaves for 50 minutes. State of the art Li-Ion battery delivers power reliably. Quick-charge for one shave in only 5 minutes.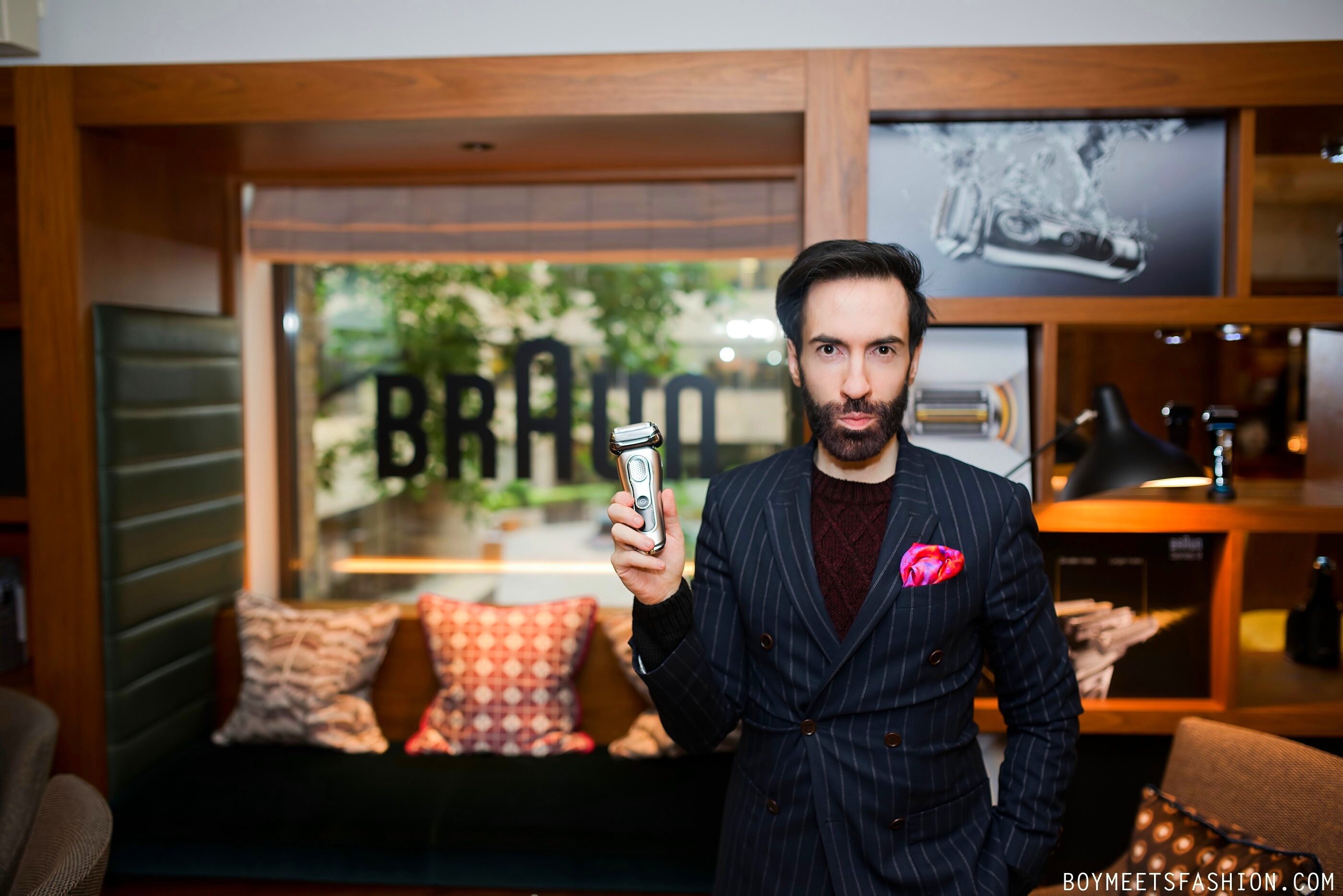 What's particularly impressive about this top of the range shaver is that it adapts to the shape of your face and using the intelligent SyncroSonicTM it uses 40,000 cross-cutting actions per minute to give you the most comfortable skin. It can be used for wet and dry shave. Another key feature I love is the fact that it can self-clean kill 99% of the germs at a touch of a button using its alcohol based system. Now that is rather brilliant as this minimises your risk of getting an infection!
With all these new outstanding features, the Series 9 raises the benchmark and leads the way forward for other shavers to follow. This is the one to get.